Elmer Kelton Bibliography Page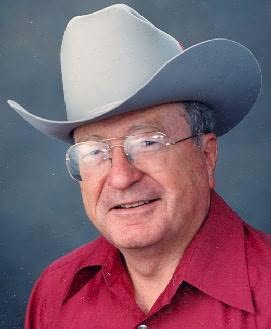 Voted the greatest western writer of all time by his peers in the 1990s, Elmer Stephen Kelton was born on 29th April 1926, at the Horse Camp on the Scharbauer Cattle Company's Five Wells Ranch in Andrews County, Texas. "My father was in that company's employment," Kelton once told me. "He later became a cowboy, then a foreman and eventually general manager for the McElroy Ranch, near Crane, Texas, where I spent my boyhood."

Although three generations of his father's family had been ranchers, poor eyesight meant that Elmer himself had little aptitude for the cowboy life he so admired. "Growing up among cowboys, I was never very good at the trade myself," he confesses. "Among cowboys I was regarded as a dude. Among dudes I was regarded as a cowboy. Consequently, my father was convinced I would never be able to make an honest living, that I would probably have to become a lawyer or some other such branch of the underworld."

But an early exposure to the western pulps soon convinced the youngster that he wanted to write. "I started with short, wildly imaginative yarns scribbled in school tablets and composition books, hidden away lest someone discover my secret," he later recalled. "Writing stories seemed less manly and respectable than playing football or roping calves, which my loops always missed."

Initially educated at Crane High School, Elmer's subsequent period at the University of Texas was interrupted by military service. Posted to Europe, however, he spent most of the war on crutches after a tank slipped on loose ground and pinned his ankle to a wall. Later, whilst stationed in Austria, he met a girl named Anni Lipp, who went on to become his wife. Today the couple (who reside in San Angelo, Texas) have three children, two sons and a daughter.

When he graduated with a B.A. in journalism in 1948, Elmer announced that he wanted to be a writer. His father was less than impressed. To an old-time cowhand like Buck Kelton, writing wasn't real work. "And I don't think he ever became completely convinced that there was not some shady aspect to it," Kelton adds.

Elmer was deadly serious, though, and spent a year submitting stories to the pulp market, most of which "seemed to beat me home from the post office." In 1948 he finally managed to make a sale to Ranch Romances, for which he received $65, and thereafter began selling regularly.

It was as an illustrator, however, that Kelton made his first appearance in print. "The folklorist Paul Patterson was one of my high school teachers, and is still one of my best friends," the author explains. "When we both came home from World War Two, he wrote a book called Sam McGoo and Texas Too and, knowing that I was then an aspiring cartoonist, asked me to illustrate it." Kelton was paid $200 for his work.

Kelton spent the first fifteen years of his working life as a farm and ranch writer-editor for the San Angelo Times-Standard. The more he travelled through Texas in pursuit of livestock news, however, the more he found himself gathering the material that was to shape his future books.

His first novel, Hot Iron, was published in paperback by Ballantine Books in 1955. It had always been the policy of publishers Ian and Betty Ballantine to publish atypical westerns, and Kelton's work was certainly that, his true-to-life heroes usually -- to use his own phrase -- "five feet eight and scared."

It was with his second novel, Buffalo Wagons (1956), however, that he really made his mark. This thrilling tale of the men who rode south into Comanche country to hunt buffalo in direct violation of a government treaty won that year's Western Writers of America Spur Award for Best Western Novel.

The author was to spend the remainder of the 1950s and 60s writing 50,000-word paperback originals. As always, his work was based firmly upon actual historical events, but his choice of subject has sometimes made him difficult to classify. "Among many of the western writers, I am regarded as more of a regional than a western writer, because my novels are mostly set in a specific place, Texas, and at specific times in history rather than in the generalized 'utility' west. Among regional writers, however, I am regarded -- particularly by the vast majority who have never read my work -- as a western shoot-'em-up writer. So I manage usually to be somewhere between two chairs and firmly seated on none."

Following a five-year stint as editor of Sheep and Goat Raiser Magazine, Kelton became associate editor of Livestock Weekly in 1968. Today his son Steve is a reporter for the same journal, and an author in his own right.

The novel that was to establish Kelton's reputation beyond all doubt was The Day the Cowboys Quit (1971), his fictionalized retelling of the bitter and relatively little-known Canadian River cowboy strike of 1883. The novel also marked the beginning of his long association with hardcover publisher Doubleday & Company, and won him his second WWA Spur Award, as well as the Best Regional Novel Award from the Border Regional Library of Texas.

Just as Wagontongue, Kelton's 1972 paperback original about racial prejudice, was based upon an earlier short story (1962's Man on the Wagontongue), so too did one of his best-known novels, The Time It Never Rained (1973) have its origins in the shorter form -- in this case, a 1952 story entitled Duster.

"Drought has often been the most implacable foe of the ranching industry in the west," Kelton explains. "And the real-life drought upon which I based Duster and The Time It Never Rained lasted seven years."

Kelton first started writing this powerful contemporary western in the 1950s, shortly after the drought finally broke, but was unable to find a publisher for what was then called This Dry and Dusty Land, and later This Bitter Dust. He failed to find a publisher for the second draft as well, but following the success of The Day the Cowboys Quit, decided to rewrite the book a third and final time. Upon publication, it won the 1973 WWA Spur Award and the Western Heritage Award for 1974, and I'm very proud indeed to own a copy inscribed by Kelton to his "No 1 fan".

In 1975, the author published the first of three westerns issued under the pseudonym "Lee McElroy," a name he reserved for his shorter and somewhat more conventional westerns. Joe Pepper is a thought-provoking memoir of a one-time badman who tells the story of his life in the last few hours before he is due to hang.

Joe Pepper was followed by Long Way to Texas (1976), a Civil War story in which a young Confederate lieutenant is given a unique opportunity to strike a blow for the south. His final "Lee McElroy" western, a power-struggle story entitled Eyes of the Hawk (1981), won him his fourth WWA Spur Award.

By his own admission, Kelton's 1978 novel, The Good Old Boys, was "the closest I have ever come to writing from sheer inspiration. [Protagonist] Hewey Calloway and the other characters took hold of the story like a cold-jawed horse grabbing onto the bit, and all I could do was hang on for the ride."

Now rightly considered a classic, this story of change and the sometimes comical, sometimes tragic ways in which itinerant cowhand Hewey Calloway adapts to it, was actually written under very difficult circumstances. Kelton's father suffered a stroke shortly after writing began, and much of the story was subsequently scribbled into notepads while the author sat at his father's hospital bedside.

The Good Old Boys went on to win the Western Heritage Award for Best Novel, and was filmed with Tommy Lee Jones as the charismatic Hewey Calloway, in 1995.

Among Kelton's stand-out novels of this latter period was The Man Who Rode Midnight (1987), a contemporary story which also explores the theme of change and man's resistance to it. This book, which is often considered to be a companion piece to The Time It Never Rained, is to my mind a major work in Kelton's bibliography.

In 1989, the author accepted a commission to write the first three books in Berkley Publishing's six-book paperback series Sons of Texas, under the house-name of "Tom Early". Taken together, Sons of Texas (1989), The Raiders (1989) and The Rebels (1990) tell the story of Texas through the eyes of Mordecai Lewis and his sons, Michael and Andrew, covering as it does a period of two decades before reaching its climax at the Battle of San Jacinto in 1836. In 2005, Kelton's present publisher, Forge Books, reissued them in attractive uniform hardcover editions, as a stand-alone trilogy.

Retiring from journalism in 1990, Kelton was now able to devote himself entirely to writing. Like Buffalo Wagons before it, Slaughter (1992) tells the story of a buffalo hunter whose bloody trade takes him to the fearsome Staked Plains and a series of showdowns with the Comanches. Told with tremendous style and peopled with vividly-drawn characters, Slaughter is another high-water mark in Kelton's career, and one which earned him yet another WWA Spur.

With the coming-of-age western The Pumpkin Rollers (1996), Kelton began a long and ongoing association with Forge Books. In more recent years the author has also contributed to a number of "collaborative" novels, in which highly-respected writers combine to tell one single story. The first of these was Legend (1999), which charts the life of cattle-rancher Lyle Speaks, from his youth in Texas to his final years in Montana. Editor Robert J Randisi repeated the format in 2004 with The Funeral of Tanner Moody, in which specific periods in the title character's adventure-filled life are remembered by those who come to mourn him. And for Noah's Ride (2006), Kelton contributed a pivotal opening chapter to a picaresque tale which chronicles a black man's rise from slavery to frontier hero.

Since 1999, Kelton's fiction has largely focused on a series of novels which tell the story of the Texas Rangers through the eyes of two main protagonists, David "Rusty" Shannon and Andy Pickard. The sequence begins with The Buckskin Line, and Hard Trail to Follow, the seventh and most recent entry (as of this writing), was published in early 2008. The third book in the sequence, The Way of the Coyote (2001), with its heartfelt dedication to a number of recently-deceased westerns writers, earned Kelton his seventh and most recent WWA Spur Award.

Inevitably, the author has himself become the subject of a number of books, including Southwestern American Literature: The Works of Elmer Kelton (1984) and Elmer Kelton: One Collector's Bibliography (1993). Kelton's response to such attention is, of course, typical of the man. "Well, now I know how that little frog felt in biology class."

In recent years, however, and much to the delight of his many admirers, Kelton has published a volume of autobiography entitled Sandhills Boy: The Winding Trail of a Texas Writer (2007). This charming and often lyrical exploration of West Texas and the memorable characters with which it was once populated, is much recommended.

Now in his eighties, Elmer shows no signs of slowing down. His latest novel, Many a River (2008) focuses on a family of Arkansas sharecroppers who are attacked by Comanches. As a result, brothers Jeff and Todd share very different fates, but are finally brought back together during the Civil War -- on opposing sides.

Admired by his peers, Kelton has been described as "a genuine, unaffected, kind and gentle man, the sort who, in person, makes you want to hunker down and listen to his stories, his voice, his wisdom."

Kelton himself, however, still wonders what might have been had he followed in his father's footsteps. Looking back over his life and career, he once told me, "Had I been a good cowboy I would still be somewhere out in far West Texas working on somebody's ranch for five hundred dollars a month and wishing I were a writer, instead of working as a writer and wishing I were a cowboy." But even he had to smile when he added, "Life has its frustrations."

A basic bibliography of books by ELMER KELTON (this bibliography does not include the many books Kelton wrote forewords, introductions, or made other contributions to.) Scroll to the bottom of this page for additional notes.
NOVELS:
1956 *HOT IRON
1956 *BUFFALO WAGONS [Spur Award]
1957 *BARBED WIRE
1959 *SHADOW OF A STAR
1960 *TEXAS RIFLES
1961 *DONOVAN
1962 *BITTER TRAIL
1963 *HORSEHEAD CROSSING
1965 *MASSACRE AT GOLIAD
1966 *LLANO RIVER
1967 AFTER THE BUGLES
1969 *CAPTAIN'S RANGERS
1969 *SHOTGUN SETTLEMENT (as Alex Hawk)
1969 *HANGING JUDGE
1971 *BOWIE'S MINE
1971 DAY THE COWBOYS QUIT [SpurAward]
1972 *WAGONTONGUE
1973 TIME IT NEVER RAINED, THE [Spur Award; WesternHeritage Award]
1974 *MANHUNTERS
1975 JOE PEPPER (as Lee McElroy)
1976 LONG WAY TO TEXAS (as Lee McElroy)
1978 GOOD OLD BOYS, THE [Western Heritage Award]
filmed for TNT Television
1980 WOLF AND THE BUFFALO, THE
1981 EYES OF THE HAWK (as Lee McElroy) [Spur Award]
1984 STAND PROUD
1985 DARK THICKET
1987 MAN WHO RODE MIDNIGHT, THE [Western Heritage
Award]
1989 *SONS OF TEXAS Book I (writing as Tom Early)
1989 *SONS OF TEXAS: The Raiders (as Tom Early)
1990 *SONS OF TEXAS: The Rebels (as Tom Early)
1991 HONOR AT DAYBREAK
1992 SLAUGHTER [Spur Award]
1994 FAR CANYON (sequel to SLAUGHTER) [Spur Award]
1996 PUMPKIN ROLLERS, THE
1997 CLOUDY IN THE WEST
1998 SMILING COUNTRY seq. to GOOD OLD
BOYS
1999 BUCKSKIN LINE, THE
2001 BADGER BOY
2001 WAY OF THE COYOTE [Spur Award]
2002 RANGER'S TRAIL
2004 TEXAS VENDETTA
2004 JERICHO'S ROAD
2005 SIX BITS A DAY (prequel to GOOD OLD BOYS)
2008 HARD TRAIL TO FOLLOW
2008 MANY A RIVER
2009 OTHER MEN'S HORSES
2010 TEXAS STANDOFF due October 2010
(*These first editions were paperback originals. All others were first published in hardback.)
SHORT STORY COLLECTIONS
1986 *BIG BRAND, THE
1986 THERE'S ALWAYS ANOTHER CHANCE
NONFICTION TITLES:
1972 LOOKING BACK WEST
1981 FRANK C. McCARTHY: THE OLD WEST
1986 PERMIAN: A Continuing Saga
1992 ART OF FRANK C. McCARTHY
1992 ART OF HOWARD TERPNING [WHA]
1992 LIVING AND WRITING IN WEST TEXAS
1993 ART OF JAMES BAMA
1993 ELMER KELTON COUNTRY
1993 INDIAN IN FRONTIER NEWS, THE
1995 MY KIND OF HEROES
1995 TEXAS
1999 TEXAS CATTLE BARONS
2003 CHRISTMAS AT THE RANCH
2007 SANDHILLS BOY: The Winding Trail of a Texas Writer
Additional notes:
Lone Star Rising, Ranger's Law, Texas Sunrise, Texas Showdown, and Brush Country are not included in this checklist because they are omnibus reprints of Kelton's earlier novels. Shotgun (2009) is a reprint of Shotgun Settlement (1969) originally published under the "house name" Alex Hawk. Pecos Crossing (2008) is a reprint of Horsehead Crossing (1963).
The first editions of Hot Iron and Buffalo Wagons were simultaneously published in cloth. These limited hardback bindings were primarily for distribution to libraries and are quite scarce today.
Kelton wrote only the first three in the SONS OF TEXAS series under the publisher's "house" name of Tom Early. (Book 4 was by Frank Roderus; Book 5, Will C. Knott; Book 6, James Reasoner.)
The nine books in Kelton's Texas Ranger Series were published in this order: Buckskin Line, Badger Boy, Way of the Coyote, Ranger's Trail, Texas Vendetta, Jericho's Road, Hard Trail To Follow, Other Men's Horses, Texas Standoff.
PSEUDONYMS of Elmer Kelton:
Kelton wrote three books under the pseudonym Lee McElroy: Joe Pepper, Long Way to Texas, and Eyes of the Hawk. Kelton wrote under two publisher's "house names": 3 books as "Tom Early;" and one book as "Alex Hawk." He also wrote one short story, "Yellow Devil," published in Ranch Romances under the "house name" Joe Stevens.